My love of blazers is not a secret neither is my love of stripes, you put both of these together and you have my idea of PERFECTION.
Let me introduce you to the gorgeous Belle Bird Belle Stripe Blazer from the gorgeous gals behind Birdsnest, just love their work!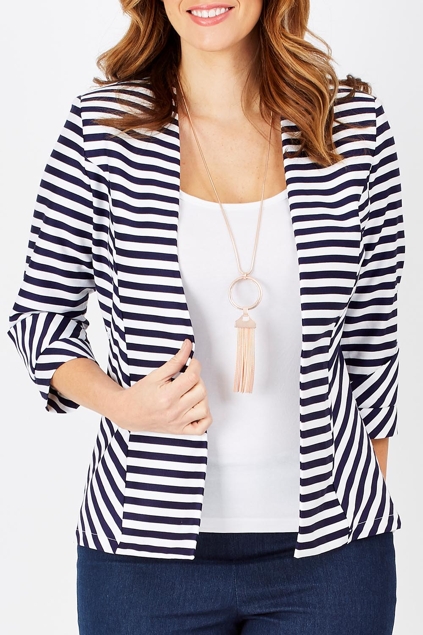 As soon as I saw this blazer I knew that this would be perfect for a 3 LOOKS post.
My go to look for this would be jeans and a white tee – as worn on the model on the website but I wanted to show you a couple of different ways just to show how truly versatile this piece can be in your wardrobe.
This blazer is made from cotton with small shoulder pads and an open front. Note this material has very little stretch so if you are in between sizes my suggestion would be to size up. I'm wearing the size 12 but a size 14 would have given me a little bit more room around the top of my arms and across the back.
LOOK 1
The classic blazer look of jeans and top with a twist – a gorgeous mustard coloured twist. This top arrived yesterday and I knew it would be perfect foil against the blue and white stripes of the blazer. All I needed to do was add my favourite pair of distressed denim jeans and a pair of heels and this is the perfect work outfit.
This top has quite a high neckline, having big boobs I can sometimes struggle with this type of top as I quite often find a v-neck or curved neckline gives a bit of a break to the expansive of boobs. But I have a couple of tricks up my sleeve to create the illusion of a lower neckline. One is by wearing a short or long statement necklace it tends to break up and distract from the ample boobage and the other is to wear a scarf wrapped to create a similar effect.
Belle Bird Belle Stripe Blazer $119.00 * | Kohko Clothing Alli Singlet Mustard $54.95 * (wearing a medium – if you want a slightly more fitted look size down) | Sussan Fashion Jeans  – these are great jeans for us vertically challenged gals (old – similar style here) | Verali Celeste Heels $109.95
LOOK 2
For me this is a look that will really work for multiple occasions work-weekend-shopping and I've worn heels but would work equally well with a pair of white kicks or flat sandals for a day of hardcore shopping when comfortable shoes are required.
Belle Bird Belle Stripe Blazer $119.00 * | Boho Bird Off to the Markets Blouse on sale $69.95 * (limited sizes available) | Rivers Comfort White Denim Skirt $22.00 * (wearing size 10 – this skirt is pretty true to size but its a pull on style and I did find the top didn't have a huge amount of stretch so was a little difficult to get over my thighs) | Verali Celeste Heels $109.95
LOOK 3
On Sunday I took a personal day got my fake tan on – this is the only tan I do nowadays. And with a lovely golden glow I feel much better about getting my legs out.
Spring is a week away and if this mild winter is anything to go by I think its going to be a long HOT summer so shorts are definitely going to be on the menu.
For this outfit I've chosen to wear an all black base to let the blazer been the stand out piece.
I do find that shorts can sometimes be a bit hard to wear as you get older especially for a semi dressy look, so I have chosen a pair of slightly dressier shorts with a loose fit that finish mid thigh and completed the look with a heeled sandal. I will be honest my thighs are not the most favourite part of my body but I've reached an age where I don't really care anymore, if I feel good in what I'm wearing then I'm going to wear it.
Belle Bird Belle Stripe Blazer $119.00 * | Little Party Dress Joanne Shorts $64.95 * | Black Cami | Frankie 4 Nikki Heels $220.00 *
* these garments were gifted to me for my editorial consideration. Full policy disclosure here