Just the word PONCHO brings back childhood memories of multi colour crochet ponchos with tassels and pom pom ties.
They were easy to wear and I thought I looked super cool in my multi colour creation, with my denim flairs and brown sandals.
And you know what I was COOL!
But my teenage years and the 80's came and I decided that short denim skirts (my favourite skirt was so short I can't believe my mother let me out of the house in it), shoulder pads and spiral perms with streaks (the hair horror) were cooler and the poncho disappeared from my wardrobe – until now.
But the latest poncho has had a serious update to the classic side.
The Birdsnest Natural for Birds Natural Poncho is made from the softest 100% Australian Merino wool and is the perfect addition to your winter wardrobe.
Winter is all about layering and the poncho the ultimate layering piece it is soft, warm and cosy to wear and can easily be thrown over your everyday outfit.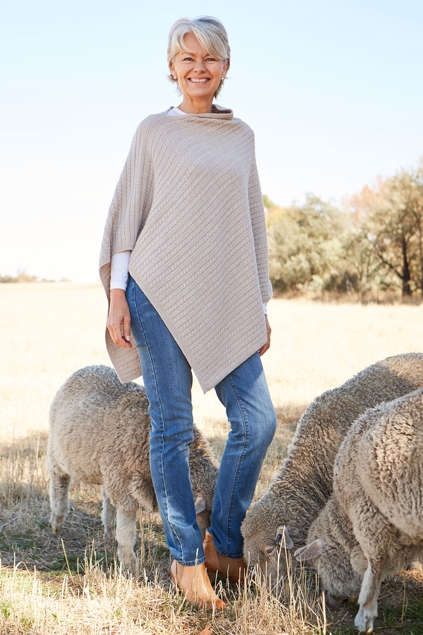 Before I go onto show you how I've worn this gorgeous poncho in 3 different ways let me just talk a little bit about Birdsnest new collection – Natural for Birds.
It is made up of nine pieces made from 100% natural fibres – made from cotton, Australian Merino wool and Cashmere. These pieces are classic investment pieces that can be worn for over and over again.
'Natural for birds is made for women who want quality clothing that feels just as beautiful to wear, as it does to look at. The styles are soft, comfortable and breathable, feeling great against the skin.' Designer Hannah Knight.
A fun and beautiful fact about the shooting of the campaign photos for this collection was a real family affair with the model and photographer being mother and son and the stunning location Birdsnest founder Jane's gorgeous property in Cooma NSW.
LOOK 1 – WORK
Keeping this work look practical with black jeggings and striped long sleeve tee – the tee is one that if it warms up and I need to take off the poncho it is still work appropriate. Living in Queensland the days start quite cool but heat up and layers are quite often removed so I need to make sure that what is underneath works well on its own.
Birdsnest Natural for Birds Natural Poncho $199.00 * | Birdsnest Boho Birds Wild West Stitched Jeggings $129.95 * | Witchery Stripe Longsleeve Curved Hem Top $49.95 | Wittner Booties (purchased on sale)
LOOK 2 – WEEKEND
Weekends for me (and I think for most of us) is all about comfort and usually involves denim, white tee and kicks. The poncho is an easy addition to this look – its soft and cosy and perfect for a weekend snuggled up on the couch relaxing or would work equally well for a picnic or any other weekend activity.
Birdsnest Natural for Birds Natural Poncho $199.00 * | Feathers and Noise Walker Tee $39.00 | Frankie 4 NAT Sneaker $229.00 * (now back in stock) | Ruby & Lilli Classic Leopard Print Scarf $45.00 *
LOOK 3 – PLAY
Who doesn't love Play in their life but sometimes we wear clothes that look great but aren't always fun to wear. The go to look when wearing a poncho is jeans but it can also look fabulous with a pencil skirt or that little black dress in your wardrobe.
The Natural Poncho can also be worn with a V neck by wearing the poncho side on with the straight at the front and draping on the sides – who doesn't love a versatile piece.
Birdsnest Natural for Birds Natural Poncho $199.00 * | Philosophy Georgina Dress  * (check out Philosophy page for a list of stockists) | Witchery Leopard Print Heels (no longer available) |
Items marked with a * have been gifted to me for editorial consideration.