Sometimes great things happen and you need to pinch yourself to make sure it's real.
Well, working with Birdsnest to create my own 6 piece Capsule wardrobe is one of those times.
For the last few weeks I have been going backwards and forwards to decide on which pieces would be good in the capsule and it has been a blast.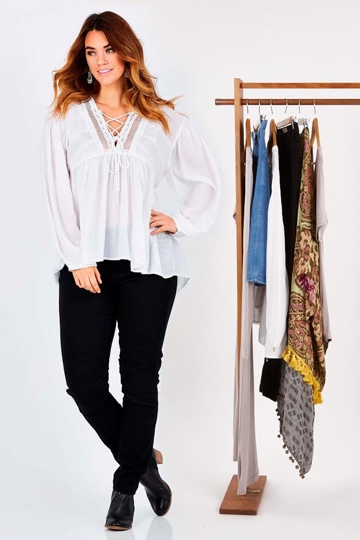 The idea of the wardrobe is to pick 6 pieces that can be used to create a minimum of 6 outfits by mixing and matching.
The items that I decided on are classic with a bohemian twist.
denim – no wardrobe is complete without it. I have added a pair of jeggings and a cute skirt.
a white blouse – this is beautiful, and so easy to dress up or down.
Swing tee – a great basic in a neutral colour that will work on its own or layered under a kimono (as I have) or a jacket.
Kimono – with all the other pieces kept neutral this is my pop of colour and print. Oh and it has tassels and pom poms… so just had to be part of the collection.
6 PIECES
True to You Denim Skirt $89.95 – this is a little bit on the big size so I sized down to a 10 and it's the perfect fit.
The V Neck Knit Dress $89.95 – depends on how you want to wear this one, I'm in the size 12 but would actually prefer it slightly looser so I would size up next time.
Off to the Markets Blouse $99.95 – true to size with plenty of room for my 12 E bust.
Wild West Stitch Jeggings $129.95 – pull on, I'm wearing my usual size. These come in 4 different colours.
Story Telling Kimono Throw $149.95 – this is a one size fits all. I'm 162cm and while this is a relaxed over-sized fit, I didn't fit that it swamped me.
Softly Swinging Bamboo Tee $69.95 – true to size, gorgeous soft fabric and comes in 4 different colours.
I have styled the pieces below for everyday occasions for the busy women.
Market Mayhem – classic monochrome with a fun boho twist,  for that weekend shopping trip.
Alpine – one of my favourite looks and one I would wear for a weekend getaway. The kimono can easily come on and off to cope with whatever weather comes your way.
Everyday Chic – blue denim and a white top is a style that never gets boring and one that I wear all year round. This has a slight twist as instead of the denim jeans, I have chosen a cute little skirt with button details.
Story Telling – a plain knit dress with a statement kimono. Perfect for a girls lunch.
Rafter – tennis anyone, denim skirt and kicks. This will keep you comfortable no matter how much running around you have to do.
Only One – Date night with hubby, when you want to look fabulous but also be comfortable.
SHOES – these are all from my own shoerobe:
Frankie 4 iZZY Boots in gunmetal – I'm just in love with this colour, a great alternative to black for winter and they are so comfortable to wear.
Frankie 4 NAT sneaker – OK, I may be a little obsessed by these, they are just so comfortable to wear.
Wittner Raina Bootie – currently on sale. For a heel, these are very comfortable to wear.
Brown lace up booties – these are oldies from Rubi Shoes but no longer available. Mollini do make the same shoe but the price is slightly different.